(Note: I've updated the end of this pattern a bit, if you would like to see how, click here.)
My little girl is almost 5 months old (yikes!) and is teething in full force. My husband and I always joke around that our kids have gums of steel because it takes
forever
for their teeth to cut through. And the drool. It's everywhere. In order to protect her clothes, it's best if I put bibs on her...but who wants plain old boring bibs? I've seen those cute little bandanna style bibs all over lately, but I wanted something a little more scarf-like. Plus, seeing as it's December it can keep her warm when we leave the house! I am a huge fan of multipurpose items after all ;) So, I made a couple of little scarf-bibs for our little drool monkey. These bib/scarf/things (also called a "scib" by my son!) are made with 100% cotton to keep them absorbing the drool and easily washable. They have a unique crochet stitch style that gives it both thickness and flexibility and I used a bobble stitch rather than a button to minimize the choking hazard. Although a little wooden button would be super cute!
The Drool Monkey Scarf
Items needed:
Worsted weight 100% cotton yarn (I used Lilly Sugar n Cream in "Country Green")
Size "I" crochet hook
Gauge: 3 hdc = 1 inch
Approx. 16.5 inches long (should fit most infants)
Terms:
hdc = Half double crochet
blo = back loop only
ch = chain
flo = front loop only
tc = triple crochet
(
Crochet Basics & Beyond
Class)
Notes
: When crocheting half double crochet stitches, you will end up with 3 loops for each stitch, two on top and one on the side facing away from you. Crocheting in the front loop leaves the other two loops on the side facing away from you, crocheting in the back loop leaves the other two loops on the side facing you. On this bib all the remaining loops will end up on on one side which makes this bib appear knit but also gives it a thick, absorbent quality while still being flexible and breathable.
For this bib, I chose to use a bobble stitch or crochet button instead of traditional button to fasten it. Since my little drool monkey grabs everything and puts it in her mouth, I didn't want to take any chances ;) However, the bobble won't hold up to everything, so if you think your little one will constantly be pulling it off, you might want to consider using the crochet button or a traditional one.
Pattern:
Row 1: Make a hdc foundation row of 50, ch 2 and turn (
Mastering Foundation Crochet Stitches
). Or ch 52, hdc in third from hook and across. The foundation chain makes for a stretchier edge though.
Row 2: Hdc 45 on blo, ch 2 and turn
Row 3: Hdc 40 on flo, ch 2 and turn
Row 4: Hdc 35 on blo, ch 2 and turn
Row 5: Hdc 30 on flo, ch 2 and turn
Row 6: Hdc 25 on blo, ch 2 and turn
Row 7: Hdc 20 on flo, ch 2 and turn
You are now going to be crocheting across the entire scarf. To prevent holes, add a hdc at the end of each row as you crochet past it.
Row 8: Hdc on blo until last 2 stitches, ch 1, skip 1, hdc on blo, ch 2 and turn
Row 9: Hdc on flo until end, bind off and weave in ends or add crochet button or bobble stitch
To add a crochet button:
Slip stitch into center of the edge, ch 3, slip into same spot forming a loop. With the front facing you, ch 3, dc 10 into the loop, slip stitch to the first ch 3 to join forming a little button. Bind off and weave in ends.
To add a bobble stitch:
slip stitch into center of the edge, ch 3 and with the front facing you, tc 5 times into the same space, except do not yarn over and pull through the final loop. There should be 6 loops on your hook, yarn over and pull through all 6 loops. Slip stitch, bind off and weave in ends.
Copyright and licensing information: This pattern is for personal use only. You may not repost, reprint or otherwise distribute this pattern. You may sell your finished product at local venues and craft fairs, you may NOT sell your finished product on any online store or website. If you are interested in a cottage licence for online sales, please contact me at chaleurlife at gmail dot com
This post has been linked up with some amazing sites! Click
here
to see which ones!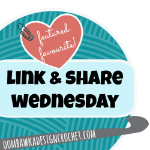 ---
---
This post may contain affiliate links. Full disclosure policy here.
---